Pet Treatments and Odor Control
We all love our pets, but…
…unfortunately they can sometimes leave quite a mess for us to clean up. If you have problems with pet stains or pet odors the solution is simple. Call Steamaway! Our technicians are trained to detect, assess, and eliminate all types of pet stains and odor issues. Whether you have urine, vomit, or the lingering smell of wet dog, our technicians have the skills and the tools to get rid of them, leaving you with a clean, great smelling carpet and home.
If you have minor odor issues due to a urine spot or something similar, while cleaning the area we will apply an enzyme that will, essentially, eat the urine bacteria. This procedure will reduce the severity of any minor odor issues. Keep in mind that a minor odor is one that can only be smelled when you are nose to the carpet. Moderate odors are saturated with special oxidizing deodorizers that penetrate into the padding beneath your carpet. This solution is extracted; the area is rinsed thoroughly, and then extracted again. Severe odor problems may require pulling up the carpet and replacing the padding, along with a comprehensive cleaning involving enzymes and oxidizing agents.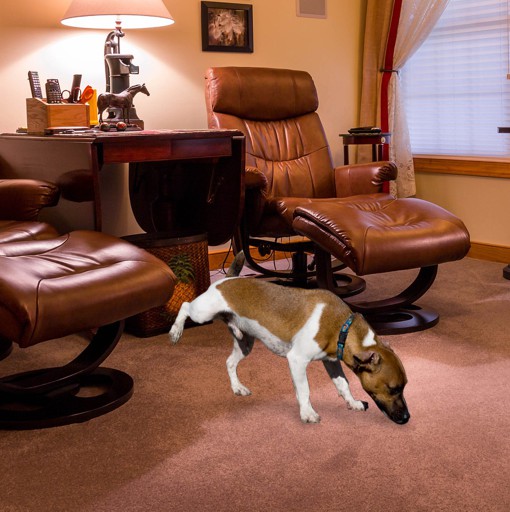 But even though we have a number of tools and techniques for removing pet stains and odors, there are still a few things you can do to help yourself.
Treat Immediately
The most important thing to remember is to treat any pet accident immediately. The longer you put it off, the less chance you have of completely cleaning the area.
Extraction First
Always start with extraction. You want to remove as much of whatever substance as you possibly can. If you have a wet/dry vac your job will be much easier. If not, use some dry towels and absorb all that you can.
Blot Don't Rub
Apply your cleaning agent and blot the area with a towel or sponge. DO NOT RUB. Rubbing at a stain will only push it further into your carpet. Only apply a little of the cleaning solution at a time. You can always add more but you can't take it back.
Rinse and Extract Again!
After removing the spot, rinse with clean water and extract thoroughly.
These few easy steps can get you through most minor pet accidents. But if you feel unsure about anything, don't hesitate to give us a call at 402-331-1634. Our Steamaway office staff will be happy to answer any questions you may have regarding your pet issues. We will also be happy to send one of our highly qualified technicians to your home to handle the problem for you.